Advocacy
---
Earth Day 2023 Service
In case you missed any of the information from the Earth Day service, you can review the text here , and the slides here .  A few more slides have been added as well.  Any questions?  Contact EJC@ufon.ca 
Surviving and Thriving as a Climate Activist
On November 12, 2022 Nanaimo Unitarians held a panel discussion for climate activists to tell their story of how they keep going in spite of setbacks and what inspires them to keep doing it.
The panel, "Surviving and Thriving as a Climate Activist" focussed on four questions:
1. How did you get into environmental activism?
2. What is the hardest part of the activism work for you?
3. What protects you from being overwhelmed in this work?
4. What inspires you to keep doing it?
The panel featured five regionanl climate activists and leaders: Whelm King, Ben Geselbracht, Jessica Stanley, Heather Baitz, and Karl Perrin
---
Writing Letters
One of the best ways of advocating for change in Canada is writing to your MP or MLA. Below are some samples of letters in MSWord format that have been sent by people on the Environmental Justice Task Force to leaders with their climate concerns. Feel free to download the samples and edit to make them your own.
---
Make Peace with the Earth Event
Making Peace with our Earth
Saturday, September 18, 2021 at 2:00 PM
at the Labyrinth, Bethlehem Centre
2371 Arbot Road, Nanaimo, BC
Your Carbon Emissions as Plastic Straws
recent National Observer opinion piece
---
Tree Planting with Nanaimo Green Faith Circle
Nanaimo Green Faith Circle has donated 80 trees to the City of Nanaimo as a part of the Sacred People Sacred Earth event earlier in March.
You are welcome to join our FUFON planting team Saturday, May 1st from 10 a.m. to noon on the E&N Trail north of Dorman Road @ Island Highway to plant the donated trees. You can register for free at https://www.eventbrite.com/e/greenfaith-tree-planting-tickets-151868180817, so that plans can be made for physical distancing.
Parking is available on Dorman Road and on McCullough Road to the south of Dorman Road. The best bus access is #30 or #40 to Beban Park and walk to the site. You will find a sign-in table on the E&N Trail just north of Dorman Road (please refer to the blue circle on the attached map). The planting area is the blue rectangle.
Be sure to dress for weather, wear your mask, bring work gloves, a water bottle and snacks (if needed). Sanitized tools will be provided by the City, but you are encouraged to bring your own.
For more information contact Brian Short at bkshort@shaw.ca
---
Earth Day 2021 Neighbourhood Clean-up
The Green Faith Circle interfaith environmental group (which includes us) requests that you get out in your neighbourhood and pick up litter before Earth Day. Post a picture of you, the bag of litter, and the campaign logo. Between now and Earth Day, April 22, please do what you can to clean up our environment. Take a bag with you on your next walk and pick up any litter you find. Take a picture of you, the litter, with our logo and post it to our Facebook page at https://www.facebook.com/groups/1440252732857736.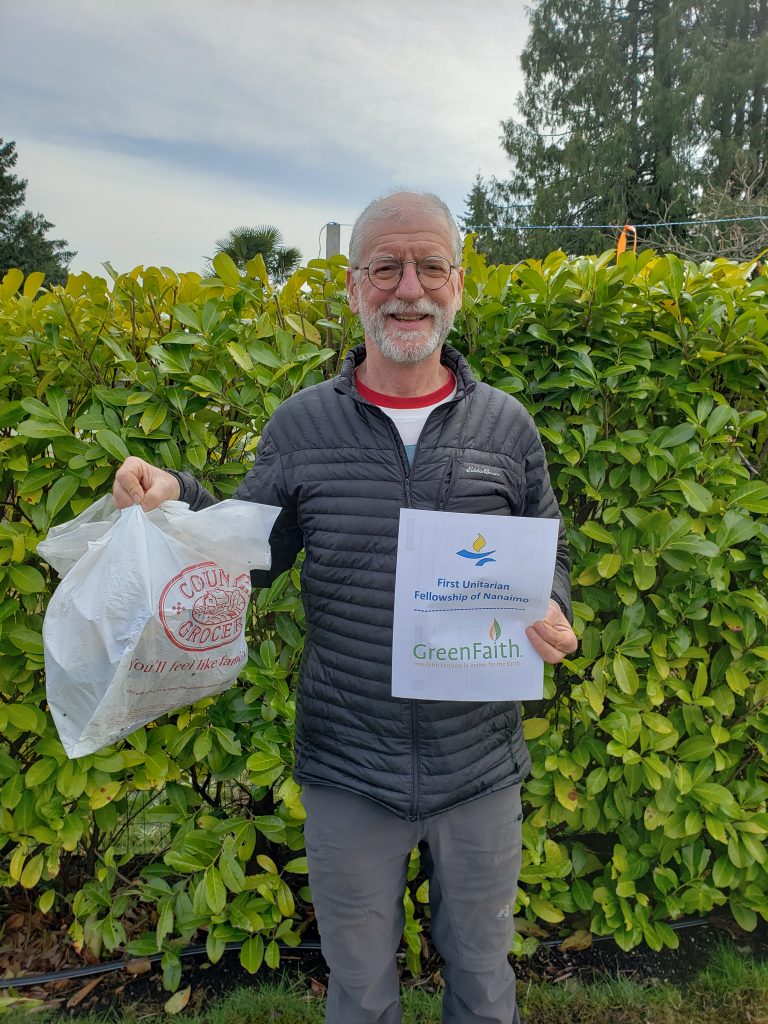 ---
Support the Fairy Creek Blockade – Spring, 2021
The Fairy Creek blockade of old growth logging is ongoing and in need of support. If you can, please send a letter requesting that the old growth forest policies be reviewed by the province.
Click here for Issue Backgrounder. You can write to Premier John Horgan <premier@gov.bc.ca> and/or Hon. Katrine Conroy <FLNR.Minister@gov.bc.ca>, Minister of Forest, Lands, Natural Resource Operations, and Rural Development, and/or Hon. Murray Rankin <ABR.Minister@gov.bc.ca> Minister of Indigenous Relations and Reconciliation, to demand that old-growth forests be preserved. Please also copy your MLA.
Click here to view, download, and adapt a Sample Letter to the Premier, relevant Minsters, and your MLA. Addresses and emails are included with the sample letter. Sending a letter by post has been shown to be the most effective means to communicate with elected officials.
Click here for suggested Talking Points to include with your letter.
Please blind copy your letter to Frances Deverell at frandev66@gmail.com
Please share with your friends. The more letters we send the greater our impact will be.
Thank-you!