Nanaimo Unitarian Shelter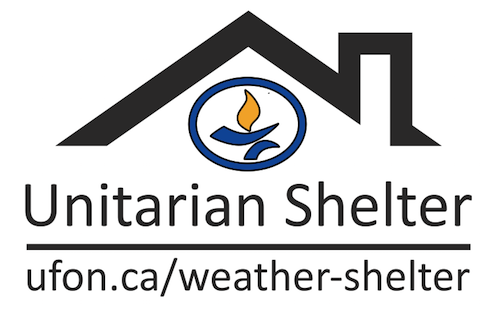 The Nanaimo Unitarian Shelter provides emergency shelter to adults ages 19 and over.
We are open 6 p.m. to 7 a.m., 7 days a week.
To check if we have a bed available call 250-754-3720 or come see us after 6 p.m. at 595 Townsite Road
The Nanaimo Free Shower program continues to operate at extended hours: 7 a.m. to 12 p.m. Monday to Friday at Caledonia Park, 110 Wall Street. We are behind the bleachers. Last shower starts at 11:30 a.m.
Outreach continues to serve people who need help with getting ID, applying for social assistance, looking for housing, getting medical attention, or other needs. Contact Carole at shelteroutreach@ufon.ca
UPDATES & ANNOUNCEMENTS
NUS now operates St. Peter's Winter Shelter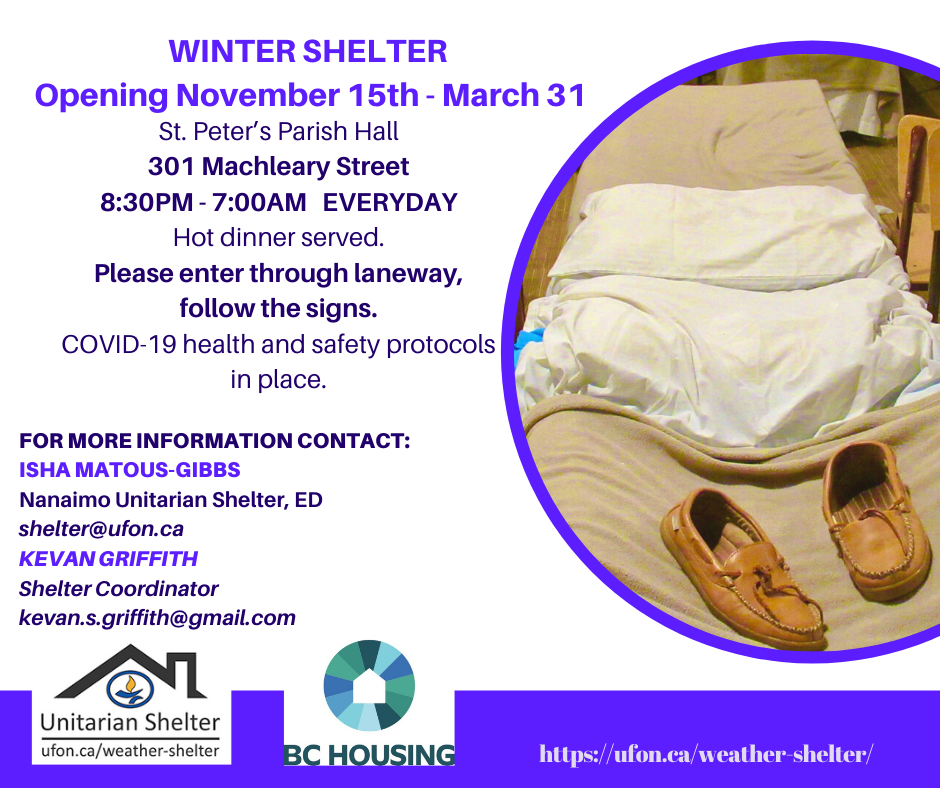 ---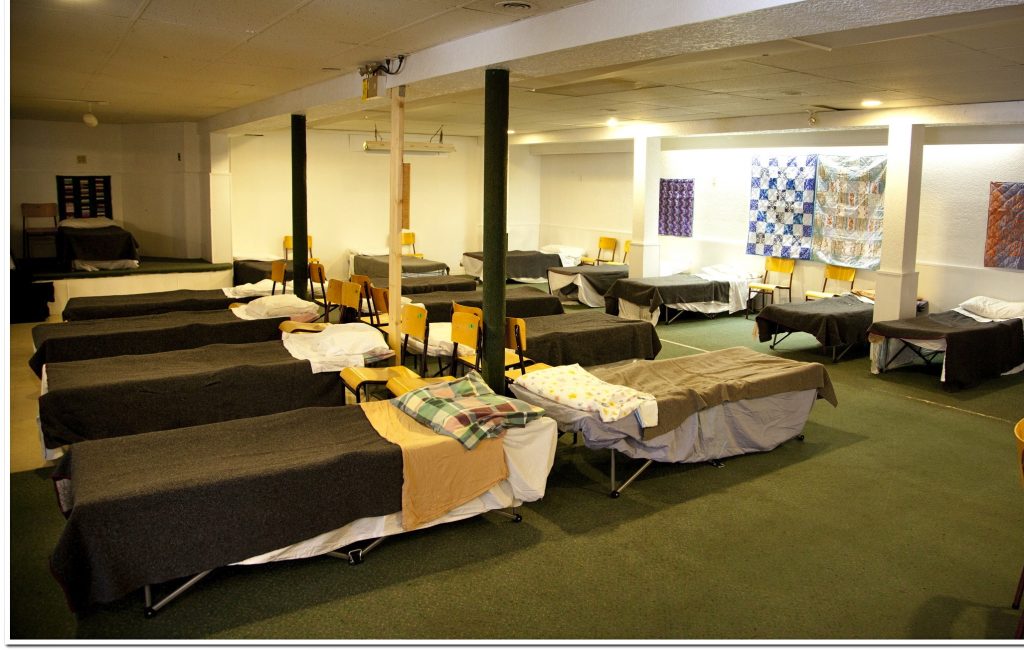 Since 2008, men and women have found overnight respite from the streets, a hot meal, clean clothes, and a non-judgemental welcome and the Nanaimo Unitarian Shelter. Open seven nights a week year round from 6 p.m. to 7 a.m., the shelter is funded through the BC Housing, and by generous cash and in kind donations from members of the First Unitarian Fellowship of Nanaimo and individuals, businesses and organizations in our community – and beyond.
Hours: 6 p.m. to 7 a.m.
Contact: 250-754-3720
"The Unitarian Shelter is the most welcoming place I have ever stayed. I feel really uncomfortable a lot of places, but they don't ask invasive questions, they just accept everyone for who they are and welcome us"

– Guest
---
NEW!

St. Peter's Church Emergency Winter Shelter

November 15th 2020 to March 31st 2021
Opening at 8:30 p.m. 7 days a week.
Dinner: 8:30-9:30.
Lights out is at 10 p.m.
St. Peter's Parish is located at 301 Machleary Street. The Winter Shelter is located in the Parish Hall, on the lower level. Guests are asked to enter from the back laneway.
With Covid-19 pandemic still spreading and the harsher winter weather approaching, Nanaimo Unitarian Shelter is partnering with St. Peter's Church and BC Housing to open 24 emergency shelter beds for the 2020/2021 winter season.
This service will support some of our communities most vulnerable by inviting them inside as guests for the winter.
If you would like to support our guests with donations of clothes, backpacks, socks, rain gear, jackets, or other items, follow us on facebook for announcement of donation drop off events or check back here for updates.
St. Peter's Shelter – Information Sheet
Free Shower Program
On behalf of the City of Nanaimo, we run a free shower program to anyone experiencing homelessness or unstable housing. Toiletries (soap, shampoo, clean towel and facecloth etc.) are provided for free. You can also enjoy a hot chocolate while waiting.
*Due to Covid-19 safety precautions, we are letting fewer people into a shower at a time and doing more cleaning in between. This means that although we are open longer hours, there can be a wait for a shower. Please come with your patience.
Hours: 7 a.m. to 12 p.m. (noon). Last shower starts at 11:30 a.m.
---
Outreach
Starting in January 2020, with a seed grant from the Nanaimo Foundation, we have begun a program to provide an outreach worker for shelter guests. Our outreach worker is available to support guests of the shelter and people using the free shower program. She can assist with a range of needs including:
Income Assistance
Housing applications
Help accessing medical persons
Addictions and mental health services referrals and applications
Carole is reachable by phone at 250-616-0554
*Due to Covid-19 precautions, how this service is delivered has changed. Please contact Carole to arrange a safe and accessible meeting spot which allows for social distancing and good hygiene protocols.
---
Donate
If you would like to support our efforts working with people experiencing homelessness in our community, contact us for information on making a cash donation, or providing clothing or other materials and supplies to help ensure our guests are warm and comfortable during their stay with us. Thank you!
Clothing, blankets, jackets, socks, and other in-kind donations can be dropped off by appointment at our shelter. Please call Kevan at 250-754-3720 to arrange.
You may send cheques made out to Nanaimo Unitarian Shelter to:
595 Townsite Road
Nanaimo BC
V9S 1K9
Attention: Lise or Isha
We hope to have secure online donation options in the near future.
We are a registered Charity and generally issue tax receipts annually. If you would like one issued at the time of donation, please contact Lise at: 250-755-1215.
---
Contact Us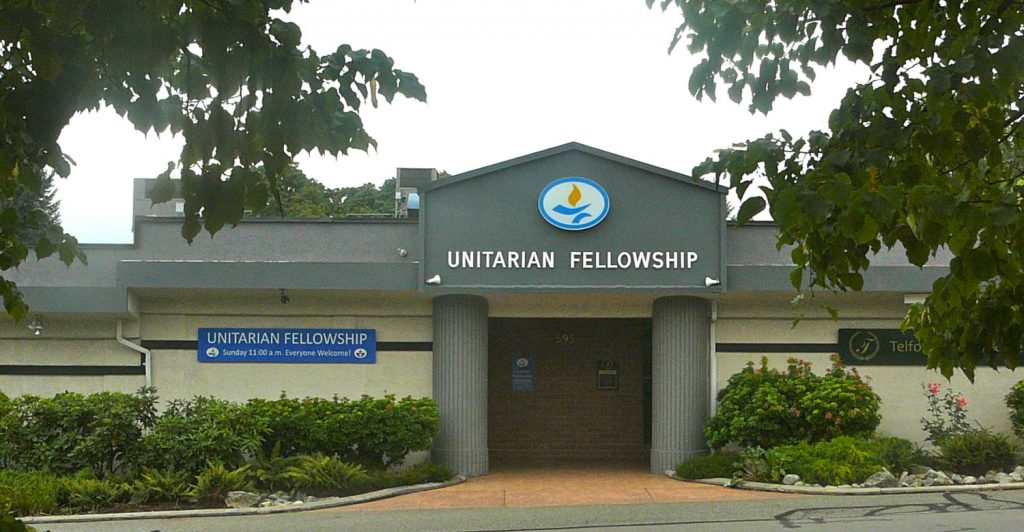 ---
Address: 595 Townsite Road, Nanaimo BC V9S 1K9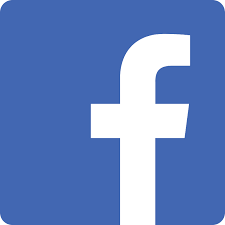 ---
Our Funders
Shelter Upgrades for COVID-19 protection and extension of the Outreach Program funded by United Way Central and Northern Vancouver Island and the Government of Canada's Reaching Home: Canada's Homelessness Strategy.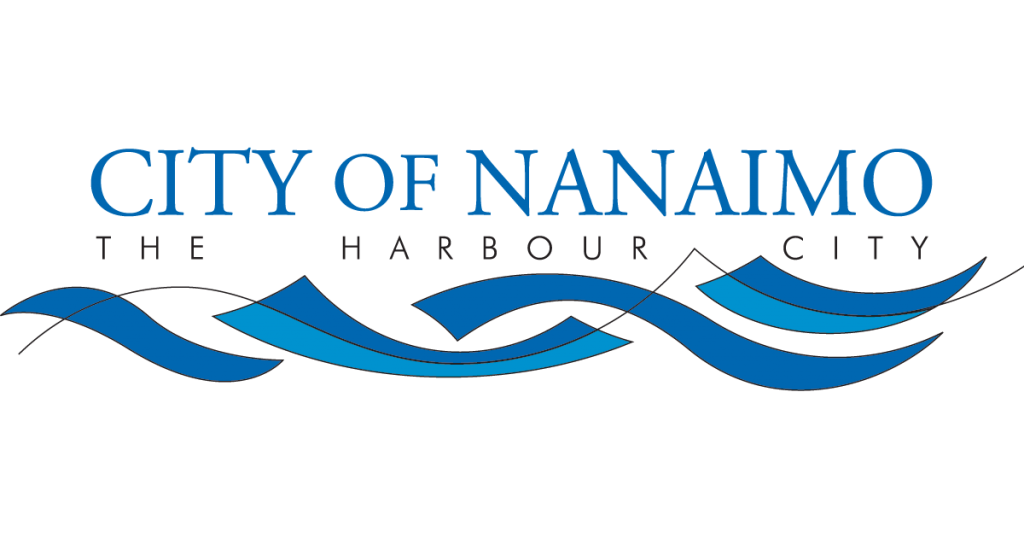 ---
Our Partners