Dr. Judith Lewis Hermann, MD says, "The ORDINARY RESPONSE TO ATROCITIES is to banish them from consciousness. Certain violations of the social compact are too terrible to utter aloud: this is the meaning of the word unspeakable." Today I am offering a reflection on my work and ministry over the past twenty years with refugee survivors of organized violence and torture. In this loving, sacred community, we have the hearts and minds to sit with what is. I dedicate this service to the spirit of Hope and Resiliency, and to all who have suffered from the Unspeakable.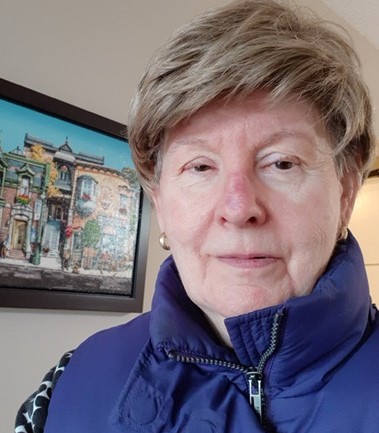 Rev Heather Fawcett is a Unitarian community minister working in Montreal, she'd like you to know a little about her. I was born in Montreal, to two army veterans who, like so many others, were looking forward to settling down and raising a family after the Second World War. We were a family of eight, my twin-sister and I were the eldest of 6 children. Two brothers and myself remain.
I had my first flash of social activism at age 4 when I saw a neighbour smacking his toddler, and I screamed at him 'you stop that, he's only a baby!' Surprisingly, he did stop. I am a Unitarian Universalist minister. I love our values, our commitments, and our aspirations. I care deeply about people, creatures of land, sea, and air, and nature.
I have a passion for history and research, writing and reading. In 2001, I started working with refugees as pastoral animator at a United Church Mission. And in 2006, I began working for RIVO, a not-for-profit organisation that provides psychological care for refugee survivors of organized violence, and torture.
I have shared my life with my former pen pal, who later became my husband. We've lived separately for many years but continue to support one-another. We have a daughter who we rejoice in, who has recently married the love of her life.
My faith, and the healing arts, and the deep goodness I find in so many people, keeps me going with dedication and hope.  
All services are currently hybrid (i.e. both in person and via Zoom) at 11:00 a.m
To join any of our upcoming services on Zoom, please click on this SERVICE LINK a few minutes before the service
Find the past recorded services here and on our website at ufon.ca